Joy from sharing, happy performance
Kyungshin cable is sharing with others based on its philosophy
"Trying to become a company trusted by customers in order to fulfill the company's social responsibilities and
furthermore to promote the development of local communities" under its management philosophy,
"Materialization of a reliable leading company".
Sharing Love

Operating 'Hansarang', a volunteer club.
Sponsoring 'House of Love', Elderly's residence in Icheon.
Sponsoring 'ChildFund Korea', a welfare corporation.
Sponsoring HOPE1004's event for delivering briquettes to neighbors in need.

Sharing Happiness

Donating basic fire protection facility to Seobuk Fire Station in Cheonan.
Sponsoring Daedong Festival in Yeongok-ri, Ipjang-myeon.
Participating in a local marathon.
Regularly donating blood participated in by the employees.

Sharing Green

Consuming local agricultural and livestock products.
Organizing a tree planting event for the employees.
Sponsoring Kyoho Grape festival in Ipjang, Cheonan.
Volunteer work at the local farm.
Sharing Love
Kyungshin Cable has constantly been conducting social contribution activities for the underprivileged neighbors.
Every year, we give donations to or perform supporting activities for various places in need of help such as HOPE1004's event for delivering briquettes to socially excluded neighborhoods, House of Love in Icheon, a residence of the elderly and ChildFund Korea, a welfare corporation, etc. and continues to share with others meaningfully.
Especially, a volunteer club, "Hansarang" participated in by most of the employees, constantly conducts volunteer work for local communities.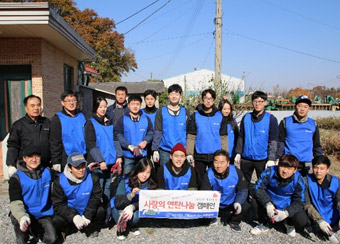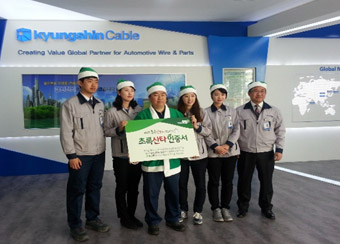 Sharing Happiness
Kyungshin Cable's rapid development was possible owing to concerns and supports from local communities as well as the interested parties.
Therefore, we have donated basic fire protection facility to a nearby fire station and continue to support Daedong Festival in Ipjang-myeon, Cheonan and participate in a blood donation event and a local marathon, etc. out of gratitude.
Sharing Green
Kyungshin Cable is pursuing the value of sharing with local communities even if the scale of business activities might be small.
We have entered into a contract for promoting consumption of farm and livestock products with Chungcheongnam-do with an aim to actively purchase local products produced in the regional communities so that they can supply meals to the employees with such farm fresh products and revitalize the local rural economy.
Also, we try to become an environment friendly company by doing small activities as holding a tree planting event regularly and conducting volunteer work for local farms during the busy farming season, etc.